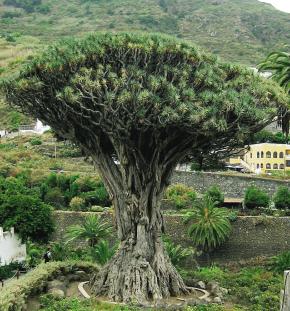 Dracaena draco, known as the Dragon's Blood tree, is a lovely tall Dracaena that originates from the Canary Islands.
Dragon's blood was used as a dye and medicine (respiratory & gastrointestinal problems)
The Dracaena draco tree is characterised by a single or multiple trunk growing up to about 8-12 metres tall (rarely more), with a dense umbrella-shaped canopy of thick blue-green leaves. Young trees remain with only a single stem; branching occurs when the tree flowers, when two side shoots at the base of the Flower panicle continue the growth as a fork in the stem. As the old leaves die the stem gradually unveils with a scaly pattern.
At about 15 years of age, the stem stops growing and produces a flower spike with greenish-white lily-like perfumed flowers, followed by coral coloured berries.
When the bark or leaves are cut they secrete a reddish resin, one of the sources of the substance known as Dragon's Blood, used to stain wood, such as of the Stradivarius violins.
MEDICINAL: The resin of Dragon's Blood is used externally as a wash to promote healing and stop bleeding. Internally it is used for chest pains, post-partum bleeding, internal traumas, and menstrual irregularities.
GROWING: The resin comes from the Dragon Tree of Indonesia and the Canary Islands. The ripe scaly fruit produces the resin that is used as Dragon's Blood.
Dragon blood Dracaena cochinchinensis Dracaena cambodiana
A very old remedy known to increase blood circulation and remove blood clots, such preventing heart attack. The tree has almost been extinct and programs for saving the species in plantations are on the way.
Recent research has shown that the Dragon blood extract can cure gastric ulcer. The excerpt from Science daily reads: "Dragon's blood" may sound like an exotic ingredient in a witch's brew or magic potion. But researchers in China are reporting that the material -- which is actually a bright red plant sap used for thousands of years in traditional Chinese medicine -- contains chemicals that were effective in laboratory experiments in fighting bacteria that cause millions of cases of gastrointestinal disease each year.
More research about the medicinal use of dragon's blood is ongoing. There are indications that, aside from removing blood clots, assist in blood production, and increase capillary blood flow, which prevents heart stroke. Dragon blood may also treat diabetes; the abstract from Elsevier reads: Sanguis Draxonis (SD), a kind of natural plant exudates, has been prescribed for handling diabetic disorders as a Chinese traditional herb. Surprisingly, SD was found to be a good material for oral insulin delivery.
Dragon blood also closes wounds without leaving scars.
| | | | | | | |
| --- | --- | --- | --- | --- | --- | --- |
| Dragon's Blood Resin | Daemomorops draco | Calamus Draco, Draconis                Resina, Sanguis draconis, Dragon's Blood Palm,                Blume. | Fire | Mars | N/A | Power amplifier, protection,                love, banishing, potency |