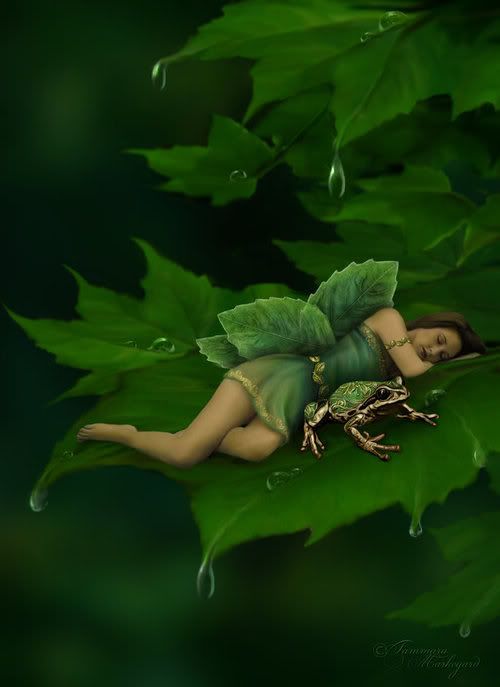 When thinking of garden faeries, the first thing that comes to mind is the flower fairy, made famous by the beautiful illustrations of Cicely Mary Barker. But the flower fairies are just one type of enchanted garden fairy that can be found in the backyard!
What are Nature Spirits?
The spirit realms of the Otherworld are split into three realms, and nature spirits are said to dwell in the Middle Realm. These encompass flower fairies, gnomes, elementals, pixies and tree spirits, to name but a few.
Nature spirits are faeries and other spirit beings that are responsible for maintaining balance in nature, overseeing everything from the growth of a seed to the weather. Many of them can be found in the backyard, especially if it is a flower-filled organic haven!
Elementals of the Garden
It's believed that elementals are the faeries of air, earth, fire, water and ether. Example of prolific elementals in the garden are gnomes, who take care of the nourishment of soil, faeries of the ponds, who are often silvery-blue in colour and very graceful, and the water fey responsible for taking care of thirsty plants.
Flower Fairies of the Garden
Every flower is believed to have a flower fairy watching over it, monitoring everything from scent to colour. Different flower fairies possess different qualities:
Faeries of Joy – found in yellow flowers, such as primroses, buttercups and daffodils
Faeries of Healing – found in blue flowers, such as bluebells and forget-me-nots
Faeries of Purity and Hope – found in white flowers, such as daisies, lily of the valley and jasmine
Faeries of Love and Beauty – found in purple flowers, such as lavender, violets and foxgloves
Faeries of Energy – found in red flowers, such as poppies, roses and carnations
 
Tree Fairies of the Garden
There are two types of beings thought to be found in trees – tree spirits and tree faeries. Tree spirits are the very essence of a tree; essentially its soul. They are wise beings, and connecting to one may herald a lifelong friendship. They will help people to learn where to find fairies in the garden.
Tree faeries are not bound to a particular tree as a spirit is, but may well assign themselves to one that they are very fond of. There are many types of tree faeries around the world, but those found in gardens are most commonly dryads. All kinds of faeries are drawn to trees, however, and there are certain species in particular which draw faeries like bees to honey. They include:
Oak
Ash
Hawthorn
Elder
Willow
Rowan
Apple
Hazel
Holly
Nut trees, such as walnut
Fairy Flowers – Flowers Associated with Faeries
All flowers should have one or more faeries attached to them, but there are certain flowers, as with trees, which are believed to hold particular attraction for lots of faeries. They include:
Foxgloves
Snapdragons
Bluebells
Poppies
Thyme
Lavender
Rosemary
Lilies
Scented roses
Jasmine
Violets
Narcissus
Hollyhocks
In addition, any native wildflowers in a garden should be a definite magnet for faeries!
Garden Fairy Magic
A garden filled with garden faeries is an enchanted place indeed – especially one with scented flowers and a herb garden. Garden faeries are said to bring protection, blessings and good fortune to those who welcome them with kindness and respect.
Sources:
Brown, Denise Wichello. The Faery Guide. Silverdale Books, 2003.
Stern, Marina T. To Live with the Fairy Folk. Weiser Books, 2002.