Faerie magic is at its most potent in the spring. Work with nature spirits and discover the Green Man to bring new projects to fruition and clear out the unwanted.
Faeries are hard at work in springtime, encouraging new growth from deep within the soil. Use this powerful time of change and rebirth to go deep within your own self and coax out ideas, dreams and desires, so the faeries can help bring them to life.
Who is the Green Man?
The Green Man is the very essence of nature, and has been documented in many different forms, from Robin Greenwood to the Corn King, Herne the Hunter to the Green Knight.
The most potent way to connect with the Green Man is to go out into nature itself, spending time working with it and becoming one with it. Find him in the ancient forests, and where nature is left to run wild and untamed. To invite the Green Man into the home, build a garden shrine to him, with Green Man imagery, offerings of nature, and a spot to sit and contemplate.
Celebrating nature is a sure way to get his attention; dance joyfully amidst the trees, lovingly tend garden plants, and talk to ancient trees. Sit and meditate with him, and learn more about him through archetypal myths and legends.
His many guises can be divided into representations of the directions and seasons, and for spring and the east, this is Robin Hood. This ancient hero of the greenwood brings lessons of focus; his talent was for hitting the target with his longbow, teaching you to aim spiritual intent with discipline and wisdom.
House Fairies
House faeries are perfect to work with in springtime for that all-important annual ritual – the spring clean. Far from being an arduous chore, this can actually be extremely rejuvenating and cleansing.
Use it to clear out physical, mental, emotional and spiritual clutter. When sweeping out dust and grime, imagine problems and negative thought patterns being swept out with them. Conduct a space clearing or house blessing to remove stuck and negative energy.
Enhance these activities by inviting the faeries of the house to be present while you work, and to assist in the rituals and cleaning. Ask them to:
Enchant your cleaning water
Create a protective barrier around the home
Help houseplants to grow healthy and strong.
Carry out negativity from the house
Strengthen your connection with house faeries to receive charms, songs and spells that can bless the house and its inhabitants. Don't forget to repay their generosity by leaving gifts or helping them in return, by recycling or making your home greener.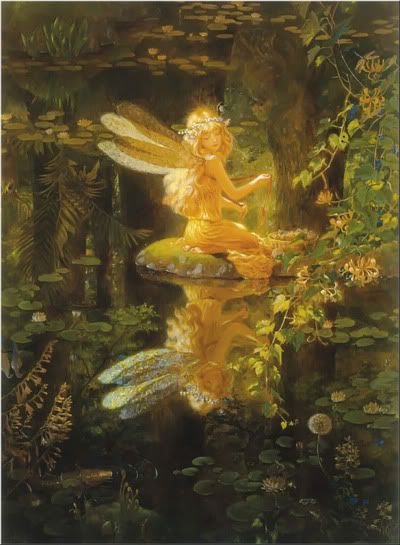 Weather Fairies
Faeries are connected with all forms of nature, including the weather. In spring, the Northern Hemisphere can experience sunshine, rain, fog, mist, wind, and even snow, so be prepared to encounter all manner of weather faeries!
Fog is reminiscent of a veil between worlds. When walking in mist, faeries may try to pass on messages of the Otherworld, so keep track of your thoughts!
April often brings 'April showers' so it is a perfect time to connect with the faeries of rain, such as the beautiful Hungarian water faerie Szepasszony, who dances in rainstorms and showers of hail.
Rain can reawaken the spirit and refresh the soul, so work with rain faeries for renewal and cleansing. Welcome the healing power of rain as it gives vital life force to plants, and let it cleanse your life too.
Weather faeries can also teach you to weather the storm, and be prepared for all situations. The weather of spring is uncertain and tumultuous, and its spirits can help you to learn to cope with such turmoil in your own life.
References:
Matthews, John. The Quest for the Green Man. Godsfield Press, 2001
Moorey, Teresa. The Fairy Bible. Godsfield Press, 2008