TROPIS VI: 6th International Symposium on Ship Construction in Antiquity (2001)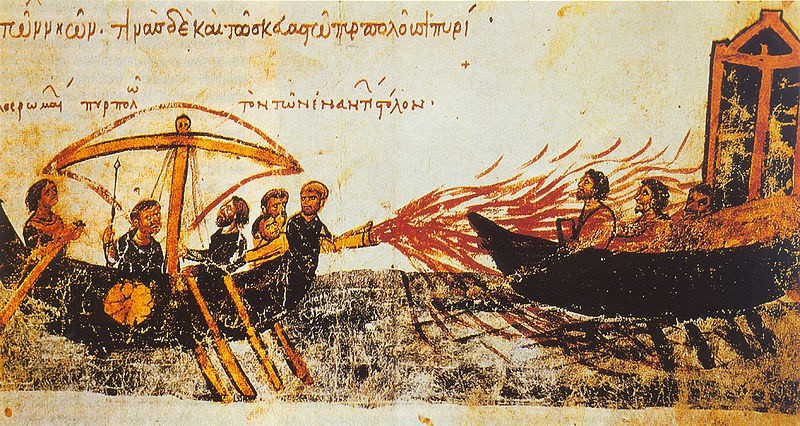 Introduction: The development of offensive weapons and defenses against them – the perennial cat-and-mouse game – has been going on for centuries, a conspicuous recent instance being the use of Scud missiles and antimissile Patriot missiles in the Gulf War.
Incendiary missiles were in use in antiquity and developed rapidly in the Hellenistic period, and various forms of fire extinguishers were invented to deal with them. The main extinguisher in ancient times was vinegar. Since vinegar was little better than water, as Pattington has rightly pointed out, we may assume that "the vinegar included salty sources, salt left on the surface of burning wood helping to extinguish it." Other extinguishers in common use were sand, raw hides, urine (which contains ammonia and phosphates) and alum.
After the introduction by the Byzantines of Greek fire or "liquid fire" which was perfected by Kallinikos, a more systematic defense against this very dangerous weapon was developed. Sadly, Chapter 70 of the tenth-century Συλλσγπ Τακτικων, dealing with the defenses against Greek fire and methods of extinguishing it, is missing: only the title has been preserved.
A marginal note informs us that vinegar was used for protection against Greek fire and the best way to protect a wall was to pour vinegar over it. It is equally unfortunate that some important Arabic sources concerning Greek fire, which would surely have contained information about the methods of extinguishing it, are also lost. Fortunately there are a few scattered references to fireproof equipment and fire-extinguishers in the Byzantine sources and far more in the Arabic sources.
In this paper I shall give a short account of the methods used for fireproofing war machines and ships and of the fireproof garments worn by the personnel who used Greek fire, as described by Ibn al-Manqali (Mangli).
Click here to read this article from the Institute of Nautical Archaeology