Danu
Danu is the mother of the Irish Gods, linked to the Goddess Dôn in Wales. Her tribe is the Tuatha Dé Danann, the People of the Goddess Danu or Ana. Invading Ireland on the first of May, the Tuatha Dé Danann battled the Fir Bolg, and eventually won an uneasy peace. In their turn the Tuatha Dé Danann were displaced by the mortal Milesians, and retreated to the sídhe, or hollow hills, to become the Faery Folk of legend.
Danu is a Goddess of fertility and plenty, and there is evidence that the river Danube is named for Her. As mother of the faeries she is close to the land and waters.
Other members of the Tuatha Dé Danann include: Manannán, Brigid or Bride, and Macha, one face of the triple war Goddess, the Morrigan. Danu in a reading brings a time of richness and inspiration, of magic and a return to the source.
Alternate names: Ana, Anu, Anann ("wealth, abundance")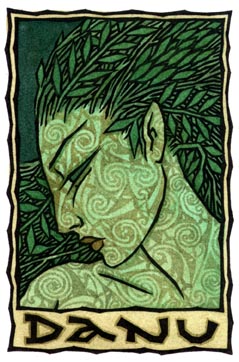 I am the force that turns the flower to the Sun.